The Power of Air!
Founded in 2010, Air Venturi has become a gateway into the world of airguns. Working closely with dealers and wholesalers alike, Air Venturi is renowned as a one-stop shop for all things airgun.
By creating products that airgunners long for, many of AV's offerings have become industry standards. Air Venturi's reach touches every part of the airgun universe with products ranging from competition-level pistols to historic airgun replicas, scopes, air tanks, and much more. At Air Venturi, we look ahead to transform the future of airgunning and welcome shooters everywhere to this growing sport.
When you think innovation in airguns–think Air Venturi.

Avenger PCP Air Rifle
High end features at an entry-level price, the Avenger sets a new standard for similarly priced PCP's to live up to. Featuring an externally adjustable regulator and externally adjustable hammer spring, the Avenger provides the user a seemingly infinite amount of performance adjustability never seen at this price point. A smooth sidelever action allows for quick follow-up shots, and the fully shrouded barrel keeps your shooting quiet.
Air Venturi 4500psi Electric Air Compressor
The Air Venturi 4500 Electric Air Compressor is a perfect illustration of AV's commitment to cutting edge innovations. At half the price of its competitors, the AV compressor is positioned to become one of the most popular airgun compressors on the market. AV has given shooters and retailers the tools they need to become their own fill source! Fill PCP guns directly, AV's Carbon Fiber Air Tanks, or even SCUBA tanks. Simply plug the compressor into a standard 110V outlet and you're ready to fill your airguns and paintball guns for years! Each compressor includes a hose, female quick disconnect, male to male fitting, replacement output air filter, oil breathing plug and extra O-rings and seals.
V10 Competition Target Pistol
V10 is a world-class performer at a competitive price! Air Venturi's own competition pistol is an affordable choice for beginners in 10-meter pistol competition. This single stroke pneumatic generates enough power to launch its .177 pellets at 400fp–an ideal speed for accurate shooting. Weighing in at less than 2lbs, the V10 features an adjustable walnut grip for a comfortable grip and a 2-stage adjustable trigger crisp clean trigger pulls.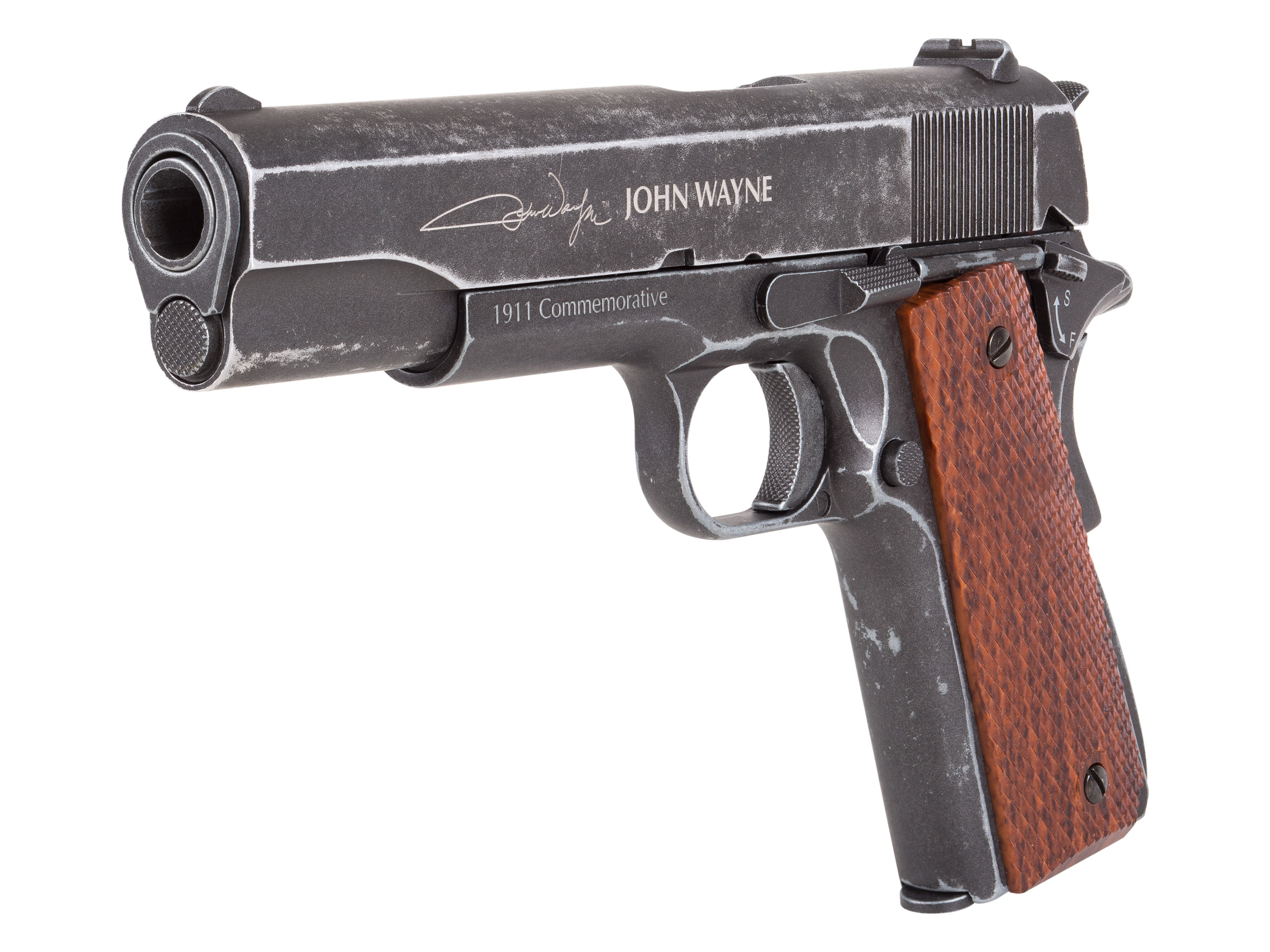 John Wayne 1911 CO2 BB Pistol / Duke Colt Peacemaker Series
Throughout his iconic film career, The Duke embodied the spirit of true American grit, individualism, and bravery. To honor the Duke's legacy, Air Venturi released the Officially Licensed John Wayne CO2 air pistols. These 1:1 replicas feature a wide mix of finishes and grips exterior all adapted for use with .177 ammo. Each of these one-of-a-kind air pistols are a blast to shoot—ideal for spinning cans or shredding paper targets! Hold on to your hats pilgrims, you're in for hours of fun on the range!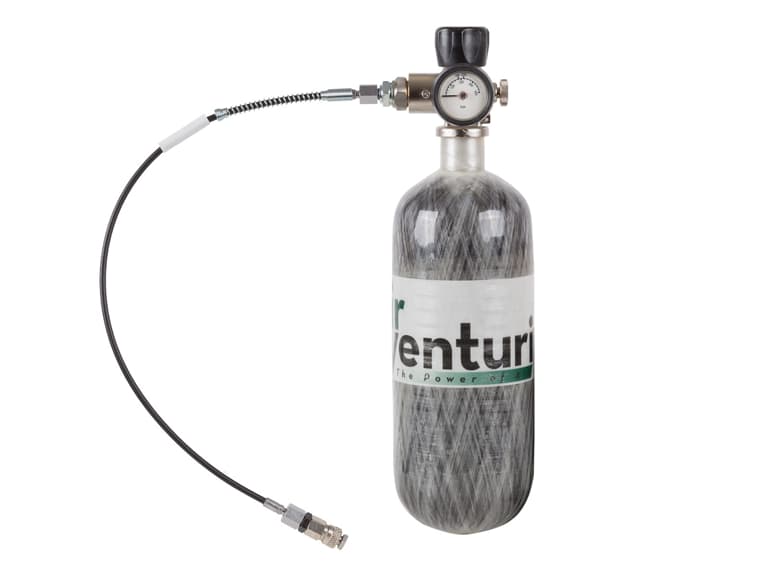 Air Venturi Carbon Fiber Tank 4500 psi
Air Venturi Carbon Fiber air tanks have become synonymous with PCP airgunning. The 90 cubic inch tank's compact size is small enough to carry in a backpack into the backwoods or the target range. Rated for 4,500 max fill pressure, easily fill your PCP rifles and pistols with the tank's easy on/off quick disconnect fitting. With the AV Carbon Fiber tank, PCP airgunners have a new go to for convenient PCP filling.
90 cu-in. bottle from 0 to 3000 psi in 10 minutes
90 cu-in. bottle from 0 to 4500 psi in 15 minutes
74 cu-ft. tank from 0 to 3000 psi in 35 minutes
74 cu-ft. tank from 3000 to 4500 psi in 17 minutes
74 cu-ft. tank from 0 to 4500 psi in 52 minutes
88 cu-ft. scuba tank from 3000 to 4500 psi in 20 minutes
John Wayne Lil Duke BB Repeater
Based on a classic design, beginners and young shooters can plink away with this easy to use BB repeater. Featuring an image of "The Duke" himself on the hardwood stock, and the big man's signature emblazoned across the receiver.
The Lil' Duke becomes a great teaching tool when combined with Air Venturi's new LASSO Mount that adds a 3/8 inch dovetail rail to the rifle accept a small scope. This repeater has a 550 shot capacity, so running out of ammo is not going to be an issue! The Lil Duke can shoot at speeds up to 350 fps and is a perfect gun for plinking cans, bottles, and paper targets.
Air Bolt
Make your PCP airgun into a high powered bolt slinger with one of AV's most popular offerings. Blending airguns and archery, the Air Bolt is a MUST HAVE item for PCP airgunners. The .50 cal Dragon Claw can send bolts spiraling downrange at 500 fps and with a devastating 230 foot-pounds of knockdown power! Now available in .35 and .50 calibers, AV is giving PCP owners even more reasons to love their airguns. The first time you watch an arrow fly out of your PCP you'll know you made the right choice.
Cowboy Action Diamond Gong Airgun Target
This 1/8″ thick diamond-shaped steel plate will be recognizable to SAA shooters everywhere. Each hit provides a satisfying clang as it sends your BBs and pellets safely into the ground.
The Medusa
This Texas Star-like challenge finds its roots in Greek Mythology, inspired by the dreaded Gorgon monster. This resettable target lets you shoot down its 9 spinning "snakes" and reset them without leaving the bench.
Crazy Eights Target
A classic firearm target redesigned as the ultimate airgun target. Hit all eight of the hanging paddles with a reaction you can see and hear. Once all eight are on the reset bar, shoot the release paddle to drop back into the action. Innovative locking legs keep the stand up during intense shooting sessions.
Dueling Tree Target
This target lets shooters go head-to-head against their favorite shooting partner in a contest of speed and accuracy. Featuring eight target paddles, the first shooter to shoot down all four paddles on their side wins.