British manufacturer Air Arms has delivered precision machined airguns built with a passion for craftsmanship and devotion to world-class accuracy since 1983. Since their beginning, Air Arms designed rifles that merged traditional gunsmithing with precision engineering. Adopting advanced CNC machining techniques early on, the company quickly reaped the benefits and produced air rifles more accurate than thought possible. Quickly putting this technology to work, Air Arms crafted their first PCP airgun in 1988.
Air Arms attained success globally with their line of premium hunting and target airguns. This focus on craftsmanship and quality has made Air Arms one of the most prized brands in the industry.
---

FTP 900 Field Target PCP Air Rifle
In 2014, after three years in development, Air Arms released their flagship competition model, the award-winning FTP 900. This sophisticated competition rifle features a Lothar Walther barrel, two-stage trigger and stock adjustments so fine it feels like a custom built rifle. With a 200 bar (2900 psi) fill pressure this regulated PCP can send up to 100 .177 shots per fill downrange at 800 fps. This remarkable rifle is available through Air Venturi for left or right-handed shooters.
---

S510 PCP Air Rifle
Not satisfied with disrupting the field target rifle market, Air Arms released their massively popular S510 Air Rifle the same year as the FTP 900. The S510 has stood the test of time as a beautifully crafted airgun and a great value to boot. It may not be a competition rifle but the S510 can shoot 0.25-inch groups at 50 yards in the hands of a skilled shooter. Each rifle features a 200 BAR (2900 psi) fill pressure, 2-stage triggers, and 11mm Dovetail rails. Air Venturi offers this proven 10 shot repeater in many variations of .177, .22, and .25 calibers, with laminate, poplar, and walnut stock options. LEARN MORE
---

S510 Ultimate Sporter XS
Designed as the ultimate target shooter and small game hunter, the S510 XS keeps the gorgeous laminate stock of the original Sporter, except this time there are some new features under the hood. The number one improvement is the addition of a regulator that will give you up to 44, 40, and 35 shots per fill (.177, .22, .25) on the enlarged 250 BAR (3,626 psi) cylinder. Once fully-pressurized, the S510 XS can achieve speeds of up to 1,035 fps in .177, 948fps in .22 and 817fps in .25–which equates to whopping 44 ft-lbs of knockdown energy! Each of these rifles includes an adjustable power wheel for finding a balance between shot count and the power you need for hunting small game. Each XS includes an adjustable 2-stage trigger and multiple stock options.
---

S510 TDR
Built on the tried and true S510 action, the unique TDR (Take-Down Rifle) packs all of the features that small game hunters want into a highly maneuverable and transportable package. Able to break down in seconds, the S510 TDR is built to go anywhere you can. For convenient transport, each S510 TDR comes with a hard case with custom cut foam. Each includes an integrated suppressor, Lothar Walther barrel, adjustable 2-stage trigger, and smooth sidelever action. Available in .177 and .22.
---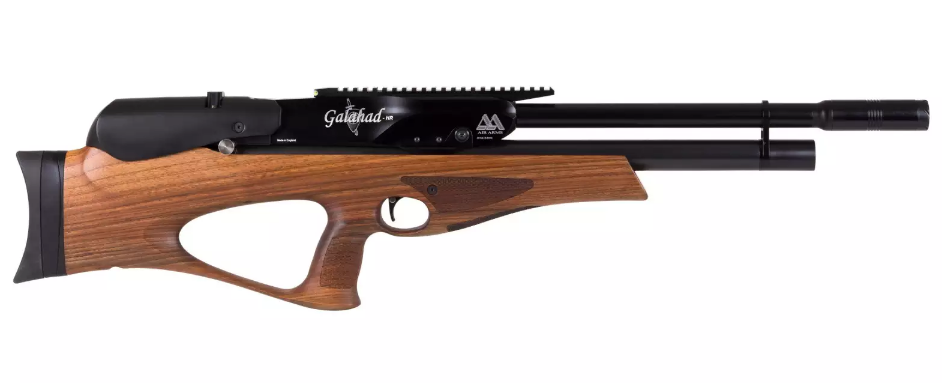 Galahad PCP Bullpup Rifle and Carbine
In 2016 Air Arms brought their renowned quality to the bullpup platform with the Galahad. Balanced and ergonomic, the Galahad is as sleek as it is a straight shooter. With 250 BAR (3,625psi) fill pressure, this regulated PCP gets around 50 shots per charge and features an innovative forward style cocking lever that is sure to be imitated by envious competitors. AV offers the Galahad as a carbine (.22 only) or rifle (.22 & .25) each with walnut or synthetic stocks. Dealers can choose between moderated, and unmoderated variants. LEARN MORE
---

TX200 MkIII Spring-Piston Air Rifle
Air Arms doesn't just thrive in the PCP realm but has found success with spring-piston powerplants such as the TX200 Mk III. With the same attention to detail as their PCPs, the TX200 Mk III is one of the most popular spring rifles ever made, and has been hailed by airgun guru Tom Gaylord as the "best spring gun there is today–bar none!" Featuring 11mm Dovetail rails, 2-stage triggers, and shrouded barrels, this underlever has everything you need for accurate shots. The TX200 MkIII is available through AV for right or left-hand shooters in .177 or .22 caliber in stained beech or walnut stocks. LEARN MORE