Kral Arms has set its sights squarely at the US market for the first time with Air Venturi.  The Turkish based manufacturer is known worldwide for producing airguns packed with features at entry-level pricing. These airguns are ideal for those new to PCP airguns or looking for a well-rounded spring piston breakbarrel.
Using advanced CNC machining Kral designed our line of airguns custom for Air Venturi with snag-free nickel sidelevers, half-shrouded barrels and crisp laser etching on the checkered Walnut stocks of their PCPs.  Kral Arms has an airgun for everyone–from the backyard plinker to the small game hunter.
The PCP line's affordable options include adjustable power systems, and two 10-14 shot spring-rotating magazines. The PCPs and Spring Pistons include Dovetail and Weaver rails to give shooters the maximum choice for their optics and accessory layout. Available in .177, .22, and .25 calibers, Kral Arms provide premium features at competitive prices.
---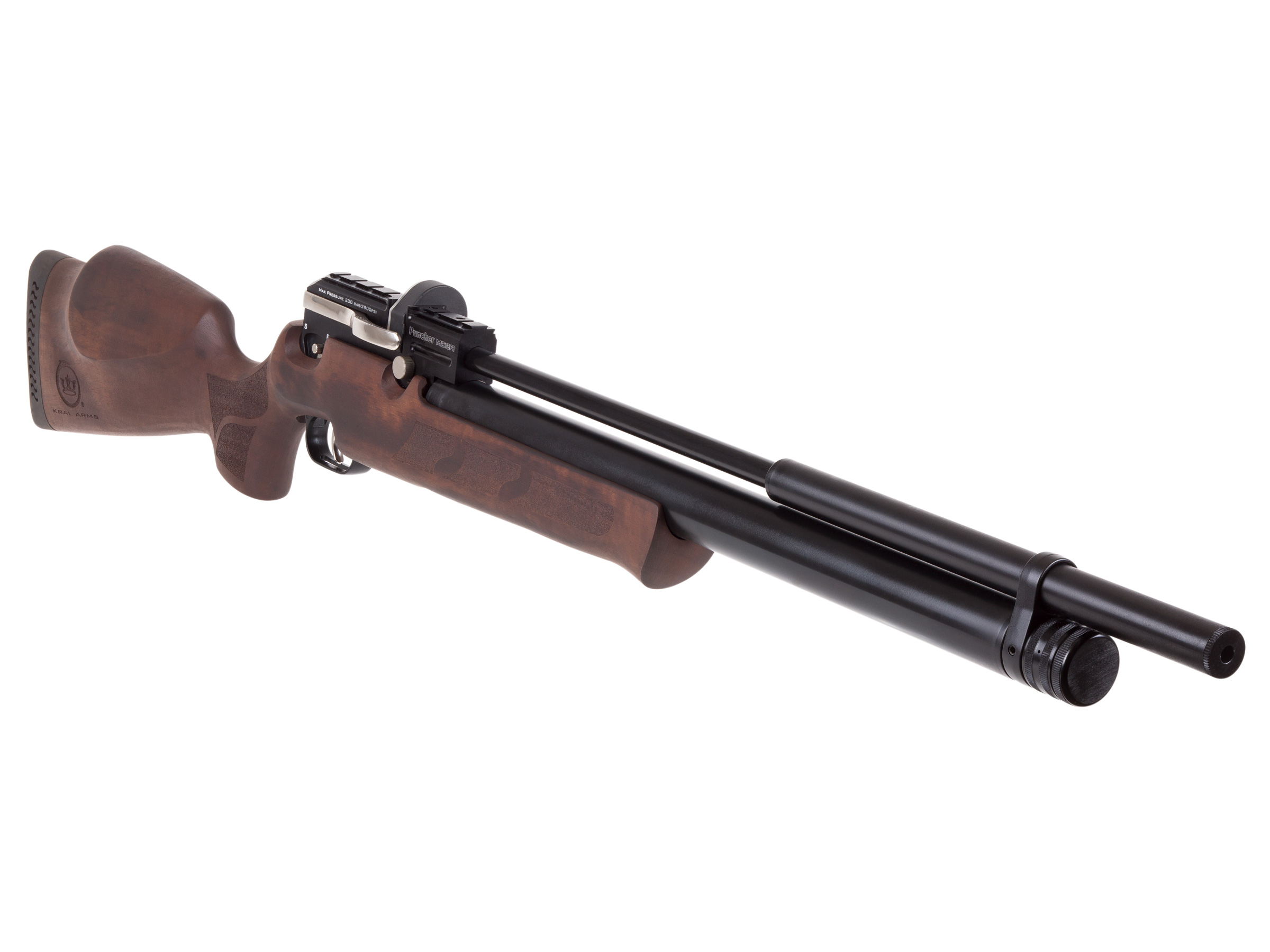 Kral Arms Puncher Pro
The pride of the Puncher PCP line, the Puncher Pro brings superior PCP airgunning to the masses!  With a sculpted Walnut thumbhole stock this gun is a sight to behold!  Each Pro features an adjustable 2-stage trigger, and adjustable power for squeezing the most shots you can get from its large 330cc cylinder–60 in .177 and .22 and 50 in .25 caliber. Each airgun includes 2 spring-loaded magazines for fast reloads.
An 11mm dovetail/Weaver scope rail is ready for your choice of optics and accessories.  If all this wasn't enough, the half shrouded barrel makes this gun quiet enough for backyard shooting and small game hunting.  If you're looking for a flagship PCP loaded with features that doesn't break the bank–Pick up the Puncher Pro.
---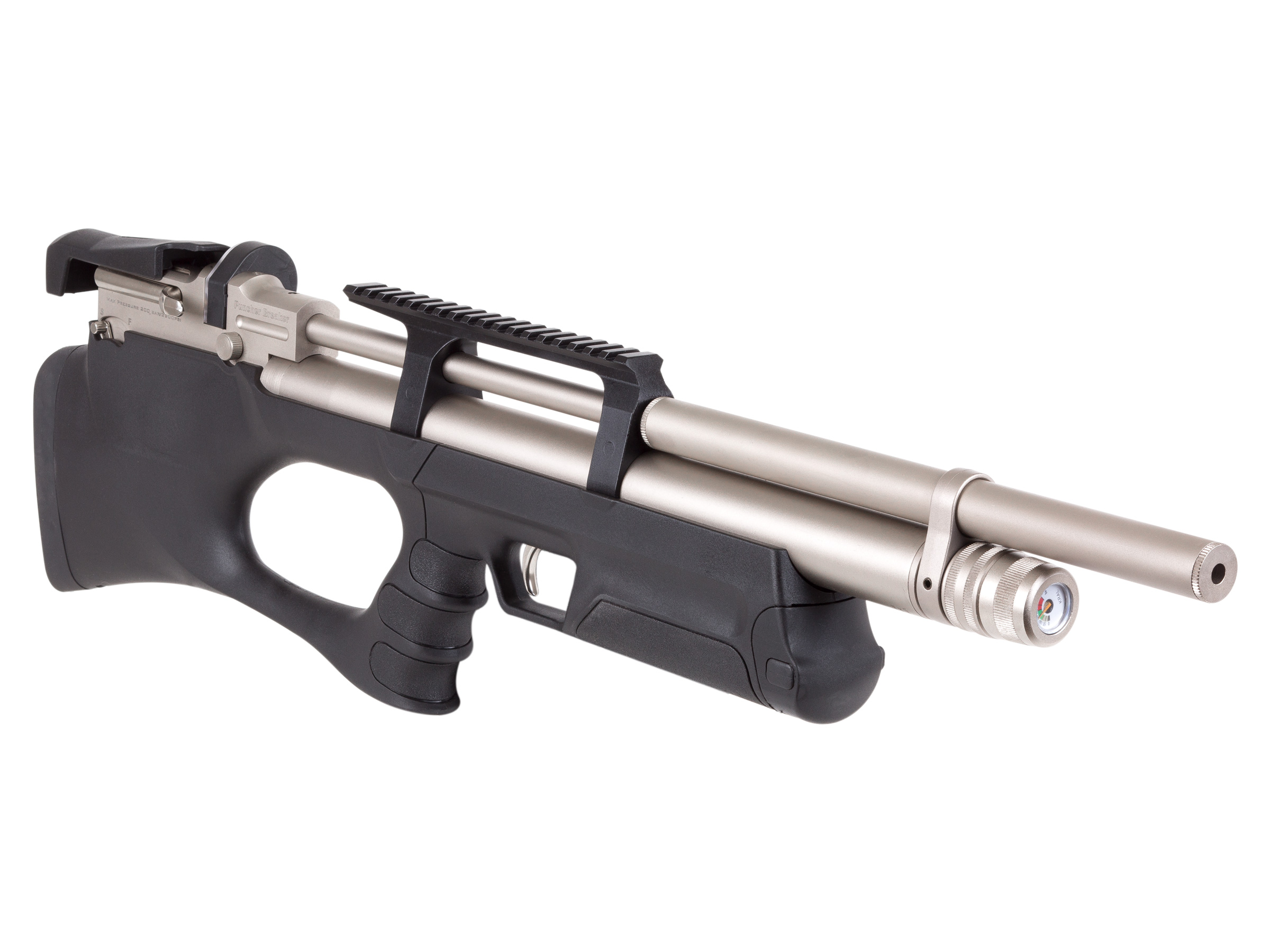 Puncher Breaker PCP Bullpup
Sleek, lightweight and maneuverable, the Puncher Breaker PCP is a bullpup where options are not sacrificed for size! Each Breaker includes adjustable power, a 2-stage adjustable trigger, and adjustable cheek piece.  This ergonomic bullpup's stock features a built in bipod adapter which accepts the included 2.5" Weaver/Picatinny accessory rail. The 7.5" Weaver/Picatinny scope rail lets the shooter choose their optics. The large 280cc cylinder and a 200 BAR (2,900 psi) fill pressure squeezes out plenty of shots as well, 35 (in .25 cal.) and 40 (in .177).  With its combination of size, features, and maneuverability, the Breaker is ideal for backyard shooting or field targeting.
The Puncher Breaker comes in three calibers and three styles: walnut, synthetic, and the silver-barreled marine finish.